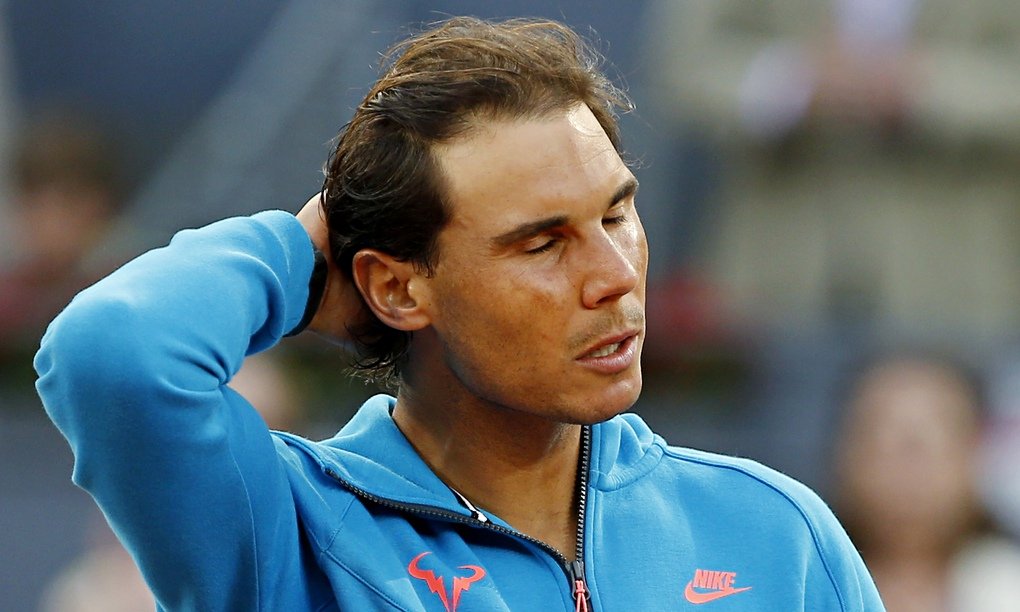 Rafael Nadal: I am not as good as I was but I'm happy playing tennis
Posted on - May 12 Tuesday, 2015
Rafael Nadal's searing honesty has always sustained him in troubled times and, while the Spaniard is perhaps a couple of defeats short of a crisis, he admits this summer has not been one of his best.

So, two weeks out from defending his French Open title and just shy of his 29th birthday, it was no surprise to hear him dissect his travails here with typical candour.

"Today I am not as good as I was," he said. "I don't know if tomorrow I am going to be as good as I was. Life has been fantastic for me – and it still is."

The immediate cause for his concern, of course, was losing in two quick sets on clay to Andy Murray in the final of the Madrid Open on Sunday. The man who owns nine French Open titles added: "Today I am not winning as much as I did in the past but life continues. Winning or losing doesn't change life in general. Last year I won at Roland Garros but today I am not thinking about last year. Life changes, the career of everyone changes. I am happy playing tennis and I am happy with my life.

"I played bad in Barcelona. In Madrid, I played one bad match, the final. I have not been consistent enough for the first part of the season but don't forget that I am sixth in the race [to the ATP World Tour Finals]. Without being very consistent, sixth in the race is not bad after coming back from an injury."

At least he has a gentle opener in the Rome Masters on Wednesday, against the Turkish qualifier Marsel Ilhan. Defeat is unthinkable.

Novak Djokovic, meanwhile, might be the best player in the world right now but for more than an hour in mid-match on Court Centrale he felt the steady heat of the midsummer sun and the resurgent power of Nicolás Almagro's racket before prevailing in three sets.

He had skipped Madrid to save his energy for Paris and a typically robust start in Rome seemed to confirm he had made the right decision. The Spaniard thought otherwise and took him deep into the third set before the world No1 rounded it out 6-1, 6-7 , 6-3 in a tick over two hours.

Djokovic was not shaken but stirred into life at the finish. He revealed he also has some discomfort in his right arm, which appeared to manifest itself towards the end of the first set. "It has been bothering me last couple of days," he said, adding puzzlingly, "but it's not worrying me."

The Serb next plays either the Brazilian qualifier Thomaz Bellucci, who beat the Argentinian Diego Schwartzman – who had to retire at 6-4, 4-3 down – or the more accomplished Roberto Bautista Agut, who was brutal beating Marcel Granollers 6-1, 6-3.

In that quarter of the draw, fans were robbed of a third-round match between the Australian hotshots, Nick Kyrgios – who beat Roger Federer in Madrid – and Bernard Tomic. Kyrgios fell to Feliciano López in two tight sets, while Viktor Troicki came through three tie-breaks to beat Tomic.

Earlier, Stan Wawrinka had to come from a set and a break down to overcome Juan Mónaco 4-6, 6-3, 6-2 and it could be that his personal life continues to intrude on his tennis. His marriage is over and his tennis is as inconsistent as the wind.

Marin Cilic, the reigning US Open champion, left the party early and looks considerably out of sorts. The Croatian saved 11 of 14 break points against Guillermo García-López but the Spanish clay-courter punished his inconsistent serve to win 6-4, 6-3.

As the evening cooled, Jo-Wilfried Tsonga – a third-round opponent for Murray if he gets past David Goffin – finished strongly to beat Sam Querrey 7-6, 6-0.