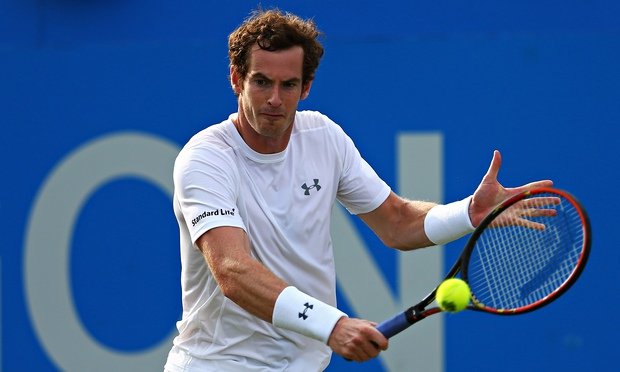 Andy Murray quickly finds his feet to move past Lu Yen-hsun at Queen's
Posted on - June 16 Tuesday, 2015
Murray beats Taiwanese qualifier 6-4, 7-5 in first match on grass
Scot pleased with new footwear after serving 12 aces
While drama spread elsewhere, Andy Murray moved with encouraging dexterity on his return to grass on Tuesday and progressed serenely into the second round at Queen's. He saw the first set of Rafael Nadal's shock defeat by Alexandr Dolgopolov, and reckoned it looked a tricky assignment for the Spaniard, before following him on to Centre Court to beat the Taiwanese qualifier Lu Yen-hsun 6-4, 7-5 in a fairly untroubled 79 minutes, although he dropped serve in each set.

To compensate for those minor lapses he thrashed 12 aces, 10 of them in the second set, and generally looked comfortable switching from clay – where he has had his most successful season – to the more familiar charms of grass. As Wimbledon preparations go this was a nice way to start, in relatively new shoes too, which aided his balance and movement.

"Miami in March was the first time I really tried them," he said. "These ones are good. I moved well today which is pleasing. The first couple of days on the grass here [previously] I have slipped a lot and fell over a couple of times. But I felt like I moved and changed direction pretty well today.

"It was nice to be back on grass, also [Centre Court] was full from the beginning, a nice atmosphere. I started off a little bit slow, didn't serve so well, but started hitting better from the back of the court. It's about getting the balance right, aggressive tennis – but when you play that style first back there's more of a chance to lose."

He will find Fernando Verdasco a considerably more difficult opponent on Thursday and has not forgotten the Spaniard took the first two sets before he tamed him in the quarter-finals on his way to winning Wimbledon two years ago.

"He's very dangerous. When he is on his game he's an extremely tough guy to beat. You can sometimes go a couple of games where you don't get to see the ball because he's serving big and hitting his forehand huge," Murray said. "Then there can be periods in the match where he makes a few mistakes and it's up to you to capitalise on them and also to try to play a very solid, stable match because he does tend to have ups and downs throughout.

"If you can stay consistent and solid throughout you'll get some opportunities. But it's not an easy thing to do against him. He does hit the ball so hard and he's flashy. He doesn't give you much rhythm. It will be tough."

If players had to have an adjective as a middle name Murray's would be Tough. it didn't quite fit. On Thursday it could be an entirely different matter – and that is just the way he likes it.