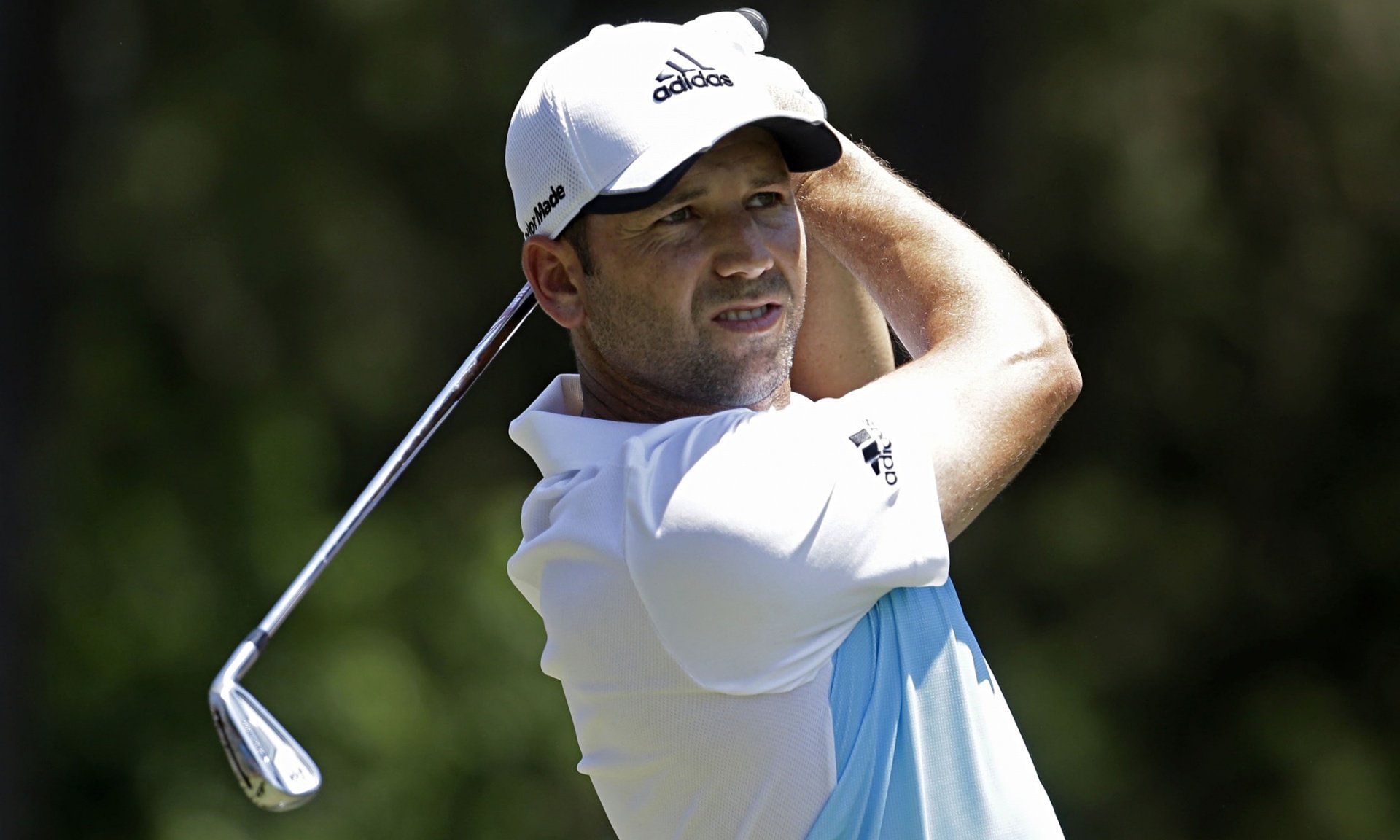 Sergio García moves into contention in tight Players Championship battle
Posted on - May 10 Sunday, 2015
On the day Tiger Woods lost his voice, there was no shortage of other players battling for headline billing. The Players Championship, as is common, will be afforded a Sunday sprint finish. Only bold, or reckless, gamblers may pick a winner.

Woods opted against any post-round media duties, as is his prerogative, after signing for a third-round 75. The stance, and his on-course demeanour, offered insight into his agitated state of mind. Woods made double bogey on two par fives – both on the front nine – in the same round for the first time in his PGA Tour career. At three over par, he will exit Sawgrass before the battle for the trophy really gets under way.

That race could conceivably involve more than 20 players. Big names are prominent among them – Sergio García, Adam Scott, Rickie Fowler, Bubba Watson, Rory McIlroy – but the strength of the Players' field means it would be folly to ignore others. This event can, after all, lay legitimate claim to housing the finest character list in golf. For now, Chris Kirk leads the way at ten under par.

García and Scott have the advantage of having triumphed here before. The Spaniard's Saturday 67 was his finest round of the week, moving him to eight under par. And yet, discussion around García, depressingly, seems to involve where he went wrong; namely on the greens.

"In a way I am a little surprised that I am where I am the way I feel, because I feel like I left a lot of shots out there," García explained. "But at the same time I guess I've always said that this is one of my favourite courses. I feel like I can do well here, even without being full on with my putting, because it's a ball-striker's golf course.

"So, if you can hit a lot of greens, the greens are small, so if you are hitting greens you usually have birdie chances. And I'm usually fairly good at that.

"Obviously I am excited. It's always exciting to be up there but at the same time, obviously, you look back at these first three days and I feel like I easily left on average three shots out there every round. You cannot think what could have been, but it is what it is. It's as simple as that. And I have just got to deal with it and try to do the best with what I have and that's what I'm trying to do."

García arrived at Ponte Vedra Beach with three putters. One has remained in his house, another consigned to a bin in a fit of pique after Friday's round. He remains that kind of individual, who can routinely offer the impression that he does not fully believe in his own ability to win on any given week. The irony is that plenty of others do.

"I think Sergio is hard on himself," said McIlroy, a Ryder Cup team-mate of García. "I think you guys have probably experienced that over the past 15 or 20 years from covering him.

"I mean, there's a reason that he gets so down on himself, because he is so talented and he knows what he can achieve and he knows how good he can be. So we're all like that at times. I get frustrated with myself, but I feel like I can just sort of let it go maybe a little easier. Maybe that Latin blood in there sort of gets him a little fired up."

McIlroy has endured his own problems with the putter, a trend that continued on day three. Yet at minus six he is firmly part of the discussion and with a chance of a second win in as many weeks; even on this, a course he has never fully warmed to.

"I played really good golf today," said the world No1 of his 70. "I think I hit 13 or 14 fairways, I hit a lot of greens, gave myself a lot of chances.

"I have just been very frustrated on these greens, not seeing a lot of putts drop. So hopefully that will change a little, it can change tomorrow; but tee to green, it's right there and I just need to get a few to fall. I feel like I left a lot of shots out there.

"The course is a little more gettable maybe, but it's firming up. I would like to see the greens a little firmer tomorrow again. I think that firm greens definitely separate the field. I would like to see firm greens. I feel, like, because it's been quite receptive this week that's what's made everyone so bunched together on the leaderboard."

Ian Poulter made bogey on the 18th but still sits on the same aggregate as Mcllroy, with Scott and Watson also part of the six-under contingent.