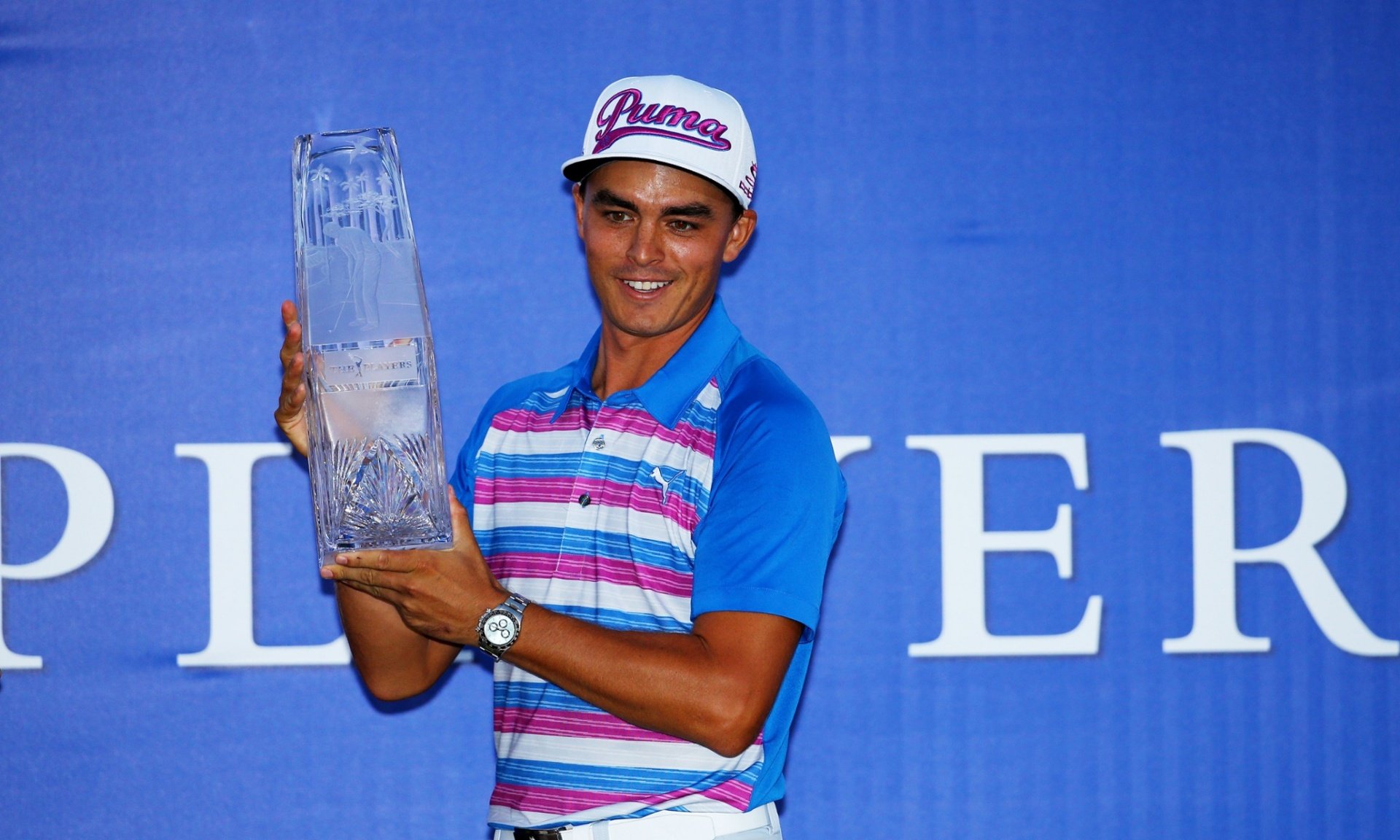 Rickie Fowler holds his nerve to win play-off at Players Championship
Posted on - May 11 Monday, 2015
Overrated, eh? Perhaps Rickie Fowler needed only an anonymous player poll for inspiration all along.

It was through that vehicle that Fowler's peers claimed, to the tune of 24% each, that he and Ian Poulter are the most overrated on the PGA Tour. How the young Californian mocked that result by claiming the Players Championship with a brilliant display of nerve under intense pressure.

Fowler prevailed at the fourth play-off hole – and first of a sudden death variety – after tying with Sergio García and Kevin Kisner at the end of regulation play. With only Kisner remaining, Fowler sent his tee shot at the signature 17th hole at Sawgrass to four feet. With the subsequent tap-in Fowler finally endorsed his talent.

The precursor to the play-off, the first time such a format has been extended to three holes at the Players, was extraordinary – even more so for a tournament which had actually been pretty flat for three and a half days. When the touch paper was eventually lit this proved compulsive viewing.

Fowler had stood on the 13th tee lying five shots adrift of García and not a part of any significant discussion at all. The Californian played the closing six holes in the same number under par and became the first golfer in Players history to finish birdie, eagle, birdie, birdie. Suddenly, helped by Garcia bogeying the 14th, Fowler was two clear. He was to sign for a 67 including that stunning back nine of 31.

Five groups behind, García responded in emphatic fashion. He was subjected to shoddy treatment on the 17th tee where moronic heckles from the crowd preceded his tee shot. García's response? An iffy tee shot to 44 feet followed by a converted putt – his longest of the season – and cold stare towards his detractors. García has his faults but deserved better in such an important scenario as this.

Bill Haas and Ben Martin could have joined García and Fowler but wilted. Playing in the final match, Kisner found himself with the 10ft putt which would have won the tournament before the need for extra holes. Somehow, agonisingly, his ball slipped by on the right side butKisner was still afforded the chance to prevail; he lost a play-off, to Jim Furyk, at Hilton Head last month. He has, at least, made a complete mockery of a world ranking which sat at 123 before a ball was struck here.

Had Rory McIlroy benefited from a hot putter he would not so much have been part of the tournament denouement as strolled off into the sunset with the crystal trophy. By quite a distance, that is.

McIlroy closed with a 70 for an eight-under total. He will reappear this week at Quail Hollow, the venue of his maiden PGA Tour win, where the world No1 hopes to convert once again the chances he is creating on the greens.

"I am leaving here frustrated again," McIlroy admitted. "It's just that sort of course. You look at the scores out there, no one is going low. I'm standing here three behind the leader and that's coming off feeling like I've left between five and 10 shots out there this week.

"It's one of those golf courses you feel like you play well, you walk off with 70 and you're quite frustrated. So, still another solid week, there are a lot of positives to take from tee to green. I just need to go home over the next couple of days and work on my putting a little bit and hopefully it will be a bit better for next week."

Jamie Donaldson matched McIlroy's score of 280 with a 67. "The season has been up and down, no real heroics as yet," said the Welshman. "I'm looking for a big summer at home, looking forward to getting home.

"I've been here for four months with the family, which has been awesome, but I'm looking forward to getting back, having a week off at home, catching up with friends and kicking on in Europe again."

The words of McIlroy, Donaldson et al felt as if they were uttered in a separate lifetime by the time the trophy was handed over. The 2015 Players Championship will not be forgotten in a hurry, which is just the way things should be.