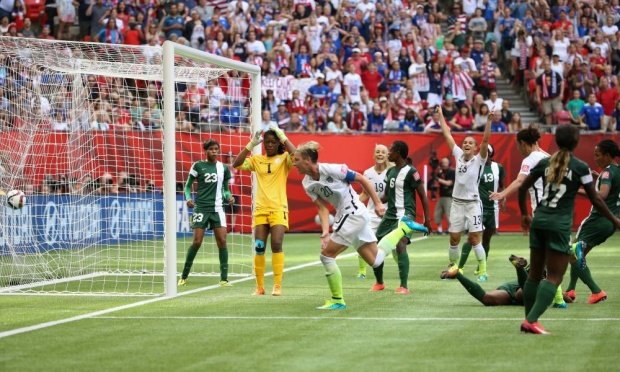 Women's World Cup 2015: Abby Wambach fires USA through and sends Nigeria packing
Posted on - June 17 Wednesday, 2015
USA 1-0 Nigeria | Group D
Wambach scores late in the first half as USA win the group
Australia show their mettle to qualify for knockout stage
It was perhaps not the most confidence-boosting performance as they enter the knockout rounds, but USA probably won't mind too much.

For the Americans, a 1-0 win Tuesday over Nigeria was just enough to top Group D and secure a considerably easier path to the Women's World Cup final than was otherwise available.

In the final play before the half-time whistle, veteran forward Abby Wambach rose above everyone in the box from a Megan Rapinoe corner kick and knocked it in with her left foot. The goal was Wambach's 14th in a World Cup, making her tied for second highest all-time goals with Germany's Birgit Prinz, and one behind Brazil legend Marta.

Wambach's role in the team had become a topic of discussion, but she returned to the starting line-up for the USA after not starting on Friday for the time in a World Cup match since 2003. Her impact was palpable, setting up defender Julie Johnston for a goal in the first few minutes – but it was chalked off because Johnston was a step offside.

"We needed a goal, and the timing of it was perfect," Wambach said. "The longer you stay in a third game in any tournament [without a goal], the more a team like Nigeria gets confidence. So, getting that goal right before half was big for us."

"It feels great to help my team win this game, to help my team advance to number one in the group."

Although USA were likely to advance to the knockout stage regardless of Tuesday's result, the match still held major implications. If the Americans hadn't won Group D and finished second, they would have had to travel five time zones away and 3,500 miles away to Moncton to face Brazil, who won Group E. With their win, the Americans head to the knockout round in Edmonton where they will face a team that finishes third in another group, to be determined after other groups finish play.


The Nigerians hardly looked up to the task of winning, which they needed to do to book a spot in the knockout rounds. Although they used their speed well on the counter, they looked tentative in the attack, failing to get shots off quickly enough before the American defense swooped in repeatedly the rescue.

The Americans doubled Nigeria's shots, 14 to seven, with seven shots on goal to Nigeria's two, but left the match with a low shot conversion rate and just one goal to show for all their chances. Even as the Nigerians went down to 10 players with 20 minutes left when Sarah Nnodim received a second booking, the Americans still struggled to capitalize.

"We need a higher conversion rate," USA coach Jill Ellis said. "It's in our statistical review, in terms of what we're trying to achieve in games. The players will be disappointed we didn't convert, but obviously pleased we got the one."

Goalkeeper Precious Dede denied Alex Morgan on a breakaway at the start of the half, lunging to catch the chip attempt over her head. Morgan had a do-over chance 15 minutes later, set up by fullback Ali Krieger, but Dede slid out to smother the ball, denying Morgan again.

Morgan started her first match since early April. She told the Guardian last week that she felt ready to start, but only played 12 minutes against Sweden in a scoreless draw on Friday. She was replaced in the 66th minute with Vancouver native Sydney Leroux.

"I really thought I was going to finish that one from the last couple minutes I was in, but the Nigerian keeper made a really good save, actually," Morgan said. "I would like to score, but at the end of the day we won, and I felt like I got a really good 65 minutes."

Johnston and Becky Sauerbrunn both shone in the their center-back roles, each cutting out dangerous opportunities from Nigeria's speedy attackers. Nigeria forward Asisat Oshoala had a breakaway in the 25th minute that Johnston tracked back to slide out of play.

Defender Christie Rampone came on as a late sub and became the oldest player to appear in Women's World Cup history.

The USA will face their to-be-determined opponent in Edmonton on June 22. Their opponent will be a third-placed team from Group B, Group E or Group F.