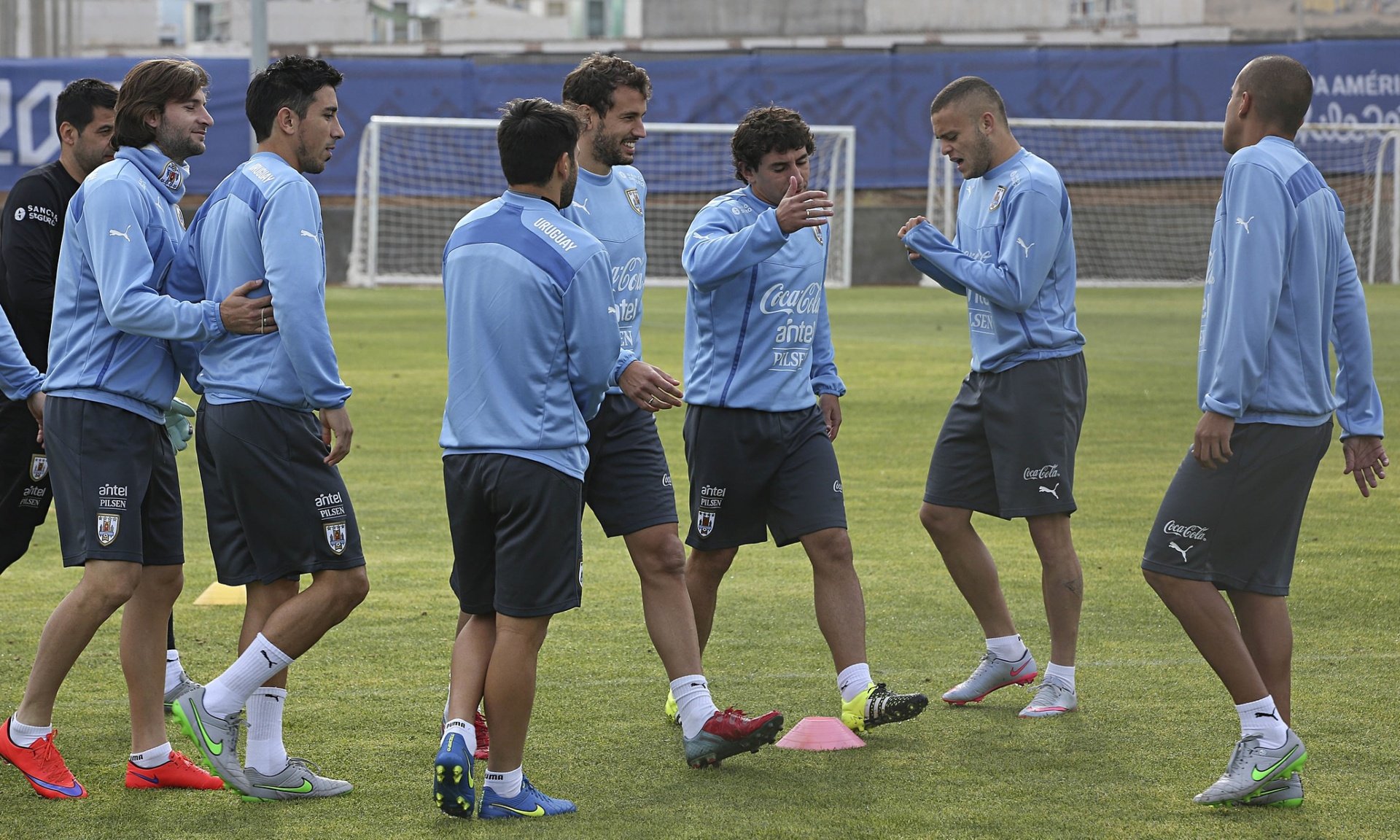 Uruguay have the history to hit Copa América heights against Chile
Posted on - June 24 Wednesday, 2015
Chile have scored more than twice as many goals as anybody else in this Copa América. They will be playing at home in front of 40,000 red-shirted fans. They have played with a verve and a fluidity nobody else in this tournament has matched and, if anything, Arturo Vidal's drink-driving charge, which could have been a destabilising influence, seems to have given them an enhanced sense of purpose. Uruguay scraped through their group in third place, having scored only two goals. Other sides in their position might have approached Wednesday night's quarter-final like lambs to the slaughter but not Óscar Washington Tabárez's team. This is the sort of situation Uruguay have traditionally relished.

"Every time we play the hosts," said the midfielder Egidio Arévalo Rios, "we put them out." Four years ago, despite being reduced to 10 men before half-time, they beat Argentina on penalties in Santa Fe in the quarter-final. Four years before that, they beat Venezuela 4-1 in the quarter-final in San Cristóbal. The habit, however, goes back long before the reign of Tabárez. In 1999, they beat Paraguay on penalties in the quarter-final in Asunción. More famously, they beat Argentina 1-0 in the semi-final in Buenos Aires in 1987, on 9 July, Argentina's national day. The greatest of all such victories, of course, came in 1950, when Uruguay beat Brazil 2-1 to pinch the World Cup from them, the Maracanazo.

Precedent isn't the only reason to believe Uruguay can upset the hosts. Chile have kept two clean sheets so far but in the game in which they didn't, the 3-3 draw against Mexico, their two greatest flaws were exposed: they have height in their defensive line but not in their defenders.

Jorge Sampaoli is bielsista to the core: he demands his teams press high up the pitch, looking to win the ball back as quickly as possible, and that means there is always space in behind them. If that is combined with a lack of pressure on the ball – as with Mexico's third goal – then it requires the simplest ball over the top to set a forward clean through. While the defensive work in midfield of Marcelo Díaz allows the two centre-backs to split, there has often been space in behind the full-backs, particularly Mauricio Isla on the Chile right.

That, at least, is something that can be worked on in training and there was evidence of a more cohesive defensive approach against Bolivia – although it has to be acknowledged that Bolivia do not pose the most fearsome attacking threat. What cannot be addressed is the lack of height in the Chile team. In training this week, Sampaoli stretched a tape between two posts two metres off the ground and had his defenders practising leaping to win headers above that mark. Even for the tallest Chilean, Vidal, that means a jump of 20cm. It has escaped nobody's attention that both goals Uruguay have scored so far have come from set plays: given Diego Godín and José Giménez, the two Uruguay centre-backs, stand two inches taller than any Chilean, they will be a major threat from corners.

"We know Chile are a team that like to push a lot of players forward and that can leave you disordered," said the forward Christian Stuani. "We know they're dynamic and highly mobile but we have our weapons to combat that and we know that we can find an advantage in the chaos. For us, the key is to maintain order and not lose our concentration."

Maintaining order has been key to Tabárez's philosophy since he took over after the 2006 World Cup. "You mustn't demonise the word defence," Tabárez said. "When a coach wants to be popular, he says he is an attacking coach. When a coach says he is defensive, it is assumed something is lacking but we insist on the intelligence of players knowing when to attack and when to defend. This is a virtue. It is not a crime to be strong in defence."

With age catching up with Diego Forlán, Diego Lugano and Diego Pérez, and Luis Suárez suspended, this is a Uruguay team much changed from the side that won the tournament in Argentina four years ago – but that emphasis on solidity remains. Tabárez had spoken of preparing a side for the World Cup qualifiers and integrating members of the Uruguay youth teams that have performed so well in recent years but the only young player who has really established himself is the 20-year-old Giménez, now the clear first choice alongside his Atlético Madrid team-mate Godín in the centre of the back four.

That defence will have to be tweaked for the quarter-final, though, the suspension of the left-back Álvaro Pereira – and the injury to Martin Cáceres – meaning a start for Jorge Fucile, who missed almost all of last season with a thigh injury – having only just returned to Uruguay with Nacional, he ensured his popularity among fans by cancelling his contract and signing a "symbolic" one while he underwent treatment in Portugal. He returned in April but has played only 142 minutes since the injury. Although he came off the bench against England in the World Cup, he has not started a game for the national team since October 2013.

Edinson Cavani may still play, despite his poor form in the group phase and the arrest of his father following a traffic accident near Salto in which a motorcyclist was killed earlier in the week.

Uruguay's focus, though, will be more on the other end of the team and stifling Chile's exuberant attack. "History is a reality," said Stuani, "but that alone is not enough." Maybe not, but it is reason for Uruguayan optimism.