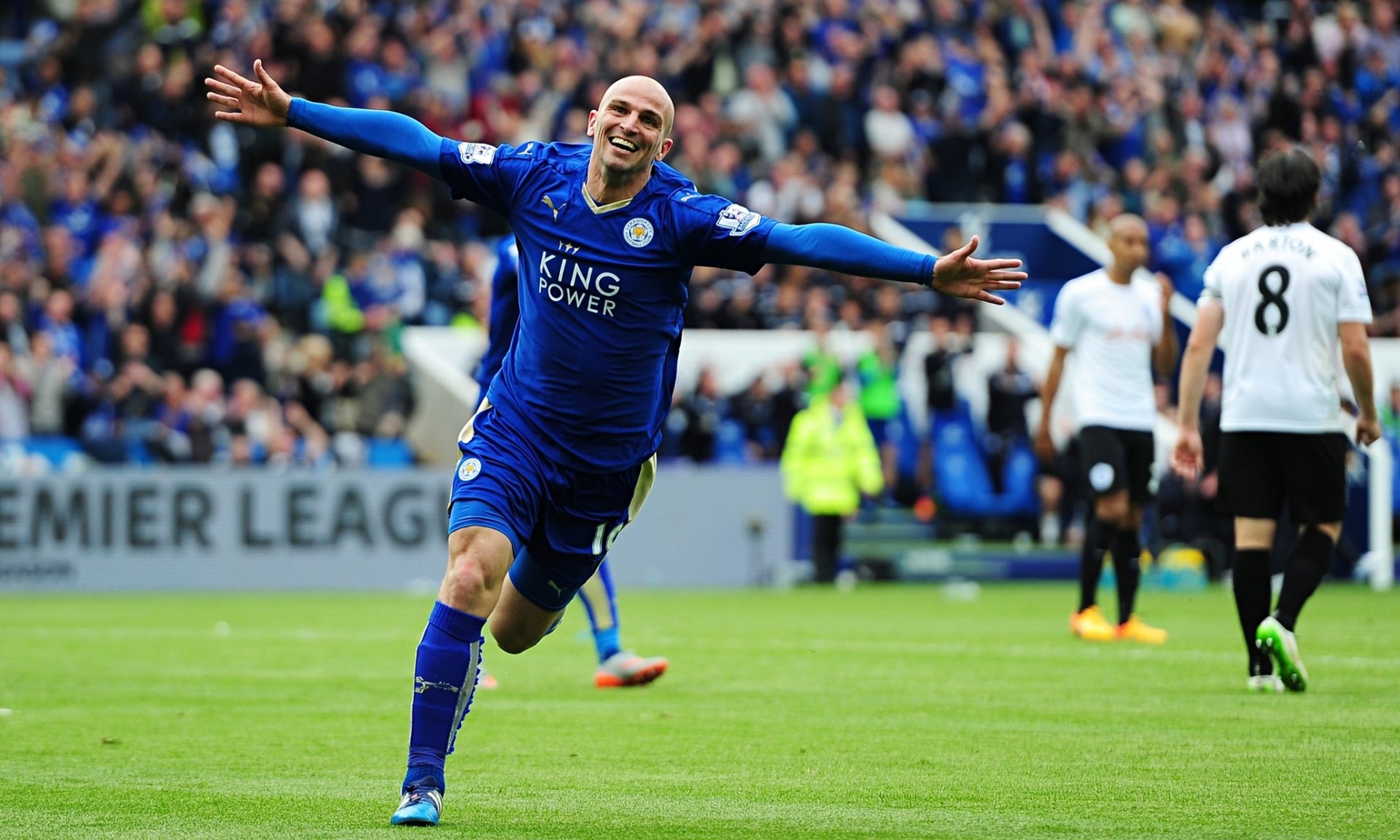 Esteban Cambiasso's refusal to go quietly is the mark of a great player Gregg Bakowski
Posted on - June 24 Wednesday, 2015
Leicester's talisman could have seen out his twilight football years in comfier surroundings than a relegation dogfight but like Gianfranco Zola, Mark Hughes and Johan Cruyff before him, he was raging against the dying light

"Do not go gentle into that good night … Old age should burn and rave at close of day … Rage, rage against the dying of the light" – Dylan Thomas.

There is a depressing inevitability about the decision a garlanded but ageing footballer makes when choosing one last challenge before ending his career. It is a choice coloured by fear. Too often they're spooked by the voice whispering in their ear: "You're past it, it's over, give up." It's why many cop out, choosing a kind of footballing semi-retirement instead. Somewhere warm and well-facilitated to wind down, where the staff tell them what they want to hear and the locals understand their growing limitations. The money helps too, of course.

It's why it was so refreshing last season to see Esteban Cambiasso, at 34, resist the lure of the Middle East or the United States for the challenge of helping Leicester City survive on their return to the Premier League.

When players of his calibre make this kind of move, it's probably the closest we get to an answer to what lies at the heart of the cliché about Messi and wet, windy Tuesday nights in Stoke. Watching a European Cup winner with stacks of league titles recalibrate his talent and try to haul more limited players up to his level was an absorbing micro-story within the compelling narrative that was Leicester's successful battle to stay up. Cambiasso really did rage against the dying of the light – with all his might.

It's just a pity we don't get to see celebrated players do it more often. Cambiasso may now choose to wind down his career somewhere more comfortable than the King Power Stadium but his achievement in helping to preserve Leicester's Premier League status only adds to his lustre rather than diminish it. He put himself out of his comfort zone, showed his ability was pliable and adapted to new surroundings, a manager probably like no other he has ever encountered and an enthusiastic but more prosaic cast of co-stars who desperately needed someone to give them direction. He won no silverware. But he finished last season wearing the glow of a man who looked like he had.

He is not alone in choosing to risk ending a successful career ignominiously, but examples are becoming more scarce as modern-day footballers become ever more like unbeaten boxers afraid to damage unblemished records. For some it works out. For others it doesn't. Either way, hats off to a famed player willing to risk ridicule for the experience of truly trying something new.

Roberto Mancini was perhaps Leicester's original Cambiasso – he just didn't last as long. Parachuted in on an initial one-month loan deal by Peter Taylor on 18 January 2001, the 36-year-old playmaker was thrown straight in against Arsenal – a match for the defensive purists that ended 0-0. A defeat to Southampton followed before he helped Leicester beat Chelsea 2-1 at Filbert Street. "For a time Mancini looked like a bottle of Frascati which had found itself in the company of brown ales," wrote David Lacey in his Guardian match report. "It appeared a toss-up as to which would occur first: a goal for Chelsea or the withdrawal of Mancini because of a crick in the neck."

Mancini left at the end of the deal. He took the Fiorentina job. But the Premier League had left an impression on him that would last longer than a sore neck. It may not have been the best place for an ageing trequartista to ply his trade, but he has since spoken fondly of his time at Leicester and said his decision to manage in England was as much down to the curiosity that was piqued by playing in the Premier League as it was to the huge transfer kitty he was afforded at the Etihad. Whether that's true or not, who knows, but it seems that the arduous task of trying to tune his antennae into Robbie Savage's wavelength hadn't put him off returning to England all together.

Mancini's former Italy team-mate Gianfranco Zola could have opted for a much easier way to see out his twilight years than the challenge of trying to haul Cagliari in his native Sardinia out of Serie B and back into the top flight. It was some undertaking at the age of 37. Nevertheless he signed in July 2003 and did just that, showing scant regard for Father Time and defying his slowing reactions with some stellar displays to propel Cagliari into Serie A and then help keep them there. Signing off with two goals away against Juventus wasn't a shabby way to end his playing career a year shy of 40 either.

And then there's Mark Hughes, who perhaps had Dylan Thomas's fiery words echoing in his mind as he chose not to end his career after a disappointing spell at Everton in which he played just 16 times in two seasons. He had never played outside the top flight but at 37 he joined Blackburn and, from a role usually in midfield, gave his playing career a late shot in the arm, his bulging thighs and tight grey curls a reassuring presence among callow but talented team-mates such as Damien Duff, David Dunn and Matt Jansen.

Not only did he help haul Blackburn out of the Championship in 2001 but he was a huge influence in their League Cup final victory a year later too, frightening off Tim Sherwood and Gustavo Poyet in Spurs' midfield with a towering, time-bending display in which he planted a metaphorical flag in the Millennium Stadium turf and declared this patch of land his own, laying the platform upon which Blackburn built their 2-1 victory to end their 74-year wait for a major knockout trophy.

A 10th-placed finish in their first season back in the top flight was secured a few months later, with Hughes becoming the Premier League's third-oldest scorer at the age of 39 when he converted against Leicester City in April 2002. Would he swap that experience for a couple of years in the sun and a bucket of cash? You can imagine his answer.

There are more surprising examples of players who have taken on a late-career challenge. Mercurial types, such as Christophe Dugarry, a player who could never be accused of being in the Hughes mould; an enigmatic, often frustrating but hugely talented forward who Birmingham City fans will never forget. The Birmingham Mail had him in their list of the club's top 10 players of all time despite him playing only 30 times and scoring six goals. Having won the World Cup for France alongside Zinedine Zidane five years earlier, accepting a gig with Geoff Horsfield as his strike partner in 2003 was akin to Jimmy Page agreeing to play guitar for Shed Seven. But his impact at St Andrew's in the run in was phenomenal. He scored five times in the final six games of the season, keeping Steve Bruce's side in the division with a dash of panache to boot. He chose to wind down his career in Qatar but never actually played a game. But like Cambiasso before him, there's a dirty piece of turf in the midlands where his name will always be remembered fondly for a feat of remarkable escapology rather than anything he won in a glittering career.

Maybe Dugarry didn't fully realise what he was letting himself in for when he signed for Birmingham. But other lauded players do. Rafael Marquéz, twice a European Cup winner with Barcelona, took a pay cut last season to embrace the challenge of keeping Hellas Verona in Serie A. The 36-year-old helped them do just that – the physical and mental challenge of facing younger and more tricky opponents in a league that he felt was the most competitive he could play in being a crucial factor.

It's the reason Chris Waddle chose to play in the Unibond Premier League for Worksop Town for two seasons aged 40 when the easier option was to not play at all or to turn out occasionally for his local pub team. "I know I can't go on forever - I'll probably stop when I reach 50 – but I love playing football. It's as simple as that. Last season I played in a local pub league here in Sheffield so Worksop actually represents a major step up."

What would be below many players who had played at Waddle's standard, was actually a test for him, having seen his career dwindle due to a number of debilitating injuries.

But perhaps the greatest example of a player risking his reputation by taking on a late-career challenge came when Johan Cruyff signed for Feyenoord, aged 36. Having returned to Ajax after a jaunt around the US in which he appeared to be happy seeing out his career in his slippers, he won the title with the club where he made his name two seasons on the bounce. But in May 1983 Ajax chose not to renew his contract. How could Cruyff show them how angry he was? By signing for the club they most hate. And how could he make them regret that decision more than any other? By winning the league and cup double and being voted Dutch footballer of the year, that's how. Bravo Johan, you brilliant, antagonistic swine you.

If only others would rage, rage against the dying of the light as Cruyff did.