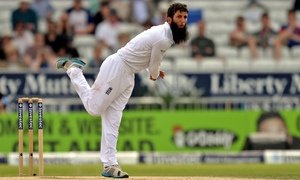 Moeen Ali must get more of a turn before England trust his Ashes spin
Posted on - June 16 Tuesday, 2015
The groans and moans from the spectators were audible and predictable. Saeed Ajmal, for a time before the crackdown the premier spinner in the world, was bowling the final over before a second new ball became available to Worcestershire, and three times Warwickshire's beefy, dangerous lower-order leftie Keith Barker belted him unceremoniously to the ropes. "Rubbish," they grumbled. "Take him off, what have we signed him again for?" These are harsh critics with short memories that if they cared to delve would tell them that last season, before he returned to Pakistan for a Test series, he took 63 wickets for the county in nine matches, and played no small part in their eventual promotion.

The Spin | WG Grace: a cricketer of contradictions who lived for his duel with the ball

But that was then and this is now. Ajmal played in that series in Sri Lanka last August but it was to be his final first-class match until this return to New Road. Following that Test, he was suspended from cricket pending scrutiny of an action that had always appeared, as Fabian might have said to Aguecheek, on the windy side of the law.

The biometric tests showed a degree of flex that was way beyond ambiguous and into the realms of darts and Alexandra Palace. To his credit, he has worked hard at a total remodel of his action but it is not even close to the same and, deprived in particular of his doosra, neither is his effectiveness. Pakistan resisted the temptation to recall him for the World Cup and when he did make an international comeback, in two ODIs against Bangladesh in April, he was slaughtered by Tamim Iqbal and Mushfiqur Rahim. Despite everything it was, to be honest, just a little sad to watch.

His action is fine now as far as legality goes, a ramrod straight arm from start to finish, but no longer is there any spark to it. For the most part, he bowls flat and gets a little spin without it being anything extravagant. Any variations he gets appear to be restricted to occasional changes of pace, and an equally occasional alteration to the height of his bowling arm to what is termed round arm. He looked efficient enough, but innocuous as well on a dry pitch that was showing a few signs of wear even after two days. The Worcestershire supporters were right to be suspicious.

Frustration rather than suspicion would have been the overriding feeling of the national selector, James Whitaker, who was watching this unfolding. He had come to Worcester to watch Ian Bell, who shrugged off his indifferent Test match form and obliged with a composed, skilled century; and Moeen Ali, whose batting has fallen away a little although not significantly, but whose bowling, as England's first-choice spinner, has been under scrutiny.

Last summer, his first in international cricket, he took 22 wickets at 28 runs apiece and, at the Rose Bowl, bowled England to victory with six for 67 against an India team containing some of the finest players of spin in the world. Since then, it has not been so good. A lengthy period of ODI cricket does not allow any spinner to settle into a rhythm and his injury sustained at the back end of the World Cup prevented him from joining the start of England's Caribbean tour.

When he did arrive, the trust was such that he was rushed straight into the second Test in Grenada, subsequently to have a disappointing match there and in Barbados, followed by an indifferent series at home against New Zealand. Since his return, he has taken 11 wickets at 41 apiece.

Now, with the profile that Adil Rashid has acquired during the current ODI series against New Zealand, from which Moeen has been rested, he is seen, in some quarters anyway, to be under pressure for his place.

Here, though, is the problem for him. Implicit in him being rested from white‑ball cricket is the idea that he would instead get good overs in the bank and so regain the rhythm of bowling that has deserted him. A spin bowler needs to be able to get into a spell, book himself in at one end as it were, without feeling under pressure to make things happen immediately.

Watching Moeen in the Caribbean, it was clear that he was trying to force his game. But instead of being able to bowl himself back into form – essential with the approach of the Ashes, for which he should still be the first-choice spinner – he was accorded a single token over at the end of the first day against Warwickshire and a further five overs in tandem with Ajmal as Bell was approaching his hundred: six overs for 18 runs in total. There was no conclusion to be drawn by Whitaker from this: he bowled OK.

Worcestershire have two more fixtures: against Middlesex at Uxbridge starting next Sunday; and on 29 June against Nottinghamshire at Trent Bridge, where their teenage off-spinner Matthew Carter has just taken seven wickets in the first innings of his first‑class debut. The latter match will almost certainly coincide, or at least directly follow, an England camp with the new coach, Trevor Bayliss. With the old Ajmal, one might understand Worcestershire's dilemma. This, though, is helping neither themselves, England nor Moeen himself. Maybe some dialogue is necessary.