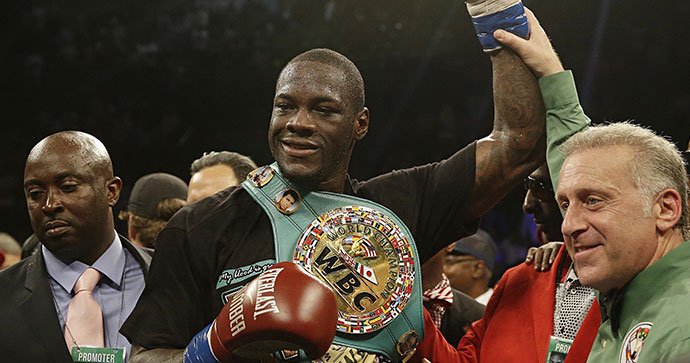 Deontay Wilder's lethargic win shows Anthony Joshua has nothing to fear
Posted on - June 15 Monday, 2015
There is much media agonising about who should be the next man to stand in front of Anthony Joshua on his road to world heavyweight title glory. Here is a foolproof solution: track Deontay Wilder's opponents, starting with his latest patsy, the underwhelming Eric "The Drummer Boy" Molina, then go looking for the former champion Bermane Stiverne, the only opponent to take Wilder the distance. He won't be hard to find.

If Joshua's ultimate goal is a fight with Wilder (presuming Wilder hangs on to his WBC title against the mandatory challenger, Alexander Povetkin), there is no more convincing path than to out-perform the champion against his old opponents. They would be glad of the payday. Stiverne would be a genuine challenge. Molina … er, less so. If Joshua could not knock out Molina inside a round there would need to be a steward's inquiry.

Wilder laboured for nine rounds in front of his Alabama fans on Saturday night before getting rid of the game 33-year-old Texan with no chin. Even this far away watching on television, he looked lethargic and strangely reluctant to finish the job, and the American with the power and reputation of a budding heavyweight ogre needs his trainer Mark Breland to remind him of his strengths – which are fairly obvious.

It was a poor performance but resulted nevertheless in the delivery of a 33rd stoppage win in 34 fights. Wilder, who had to drive only 60 miles from Tuscaloosa to get to the fight, put poor Molina down four times – with mainly glancing blows and shoves – yet was wobbled momentarily in the third round and nonplussed every time he was put on the back foot, by feints or crude charging from his desperate opponent, whose limp left lead was no more than a range-finder for the occasional haymaker off either wing.

Molina was probably the worst challenger for a world heavyweight title since, well, Audley Harrison was blown away in a round by Wilder two Aprils ago. At least Harrison had some pedigree. What he had very little of that night was ambition.

For Molina, the reverse was true but, with the best will in the world (and everyone says what a good guy the full-time special needs teacher is), he should not have been allowed anywhere near a world title fight. He had his first pro fight eight years ago, and was knocked out that night in a round by another debutant, Ashanti "The Boss" Jordan, who retired two years later with a modest cv.

Molina did, however, get out of the first round against Wilder (where his two previous defeats were visited on him – the other being at the hands of Chris Arreola – another opponent for Joshua to chase), and went on to thrash and charge at the champion for another quarter of an hour or so, intermittently retreating into a default position of rolled-up, rubber-ball defence on the ropes, where he suffered for his reticence.

Wilder could have and should have had the challenger flat on his back inside three minutes. Joshua almost certainly would have done so. As would David Price and most other respectable young heavyweights.

If Wilder fights like that against Wladimir Klitschko (who owns the other three versions of the title), he will be a former champion in one painful evening. He is clueless when not allowed to press the fight, although he is without doubt a lethal punch-thrower and impressively athletic for a 6ft 7in boxer who came late to the sport.

Still, on this evidence, Wilder is not the heavyweight saviour the Americans have been waiting for. He will excite audiences against lesser opposition and he might even surprise everyone and knock out Klitschko, if he can land one of his bombs. But, even against such mediocre opposition as Molina, he looked more concerned about walking on to a big counter than doing his job.

When it is boiled down, that is what he is: a knockout artist. And any ambitious heavyweight with skills and daring will fancy his chances against him. Joshua could beat Wilder right now. And again on Tuesday.