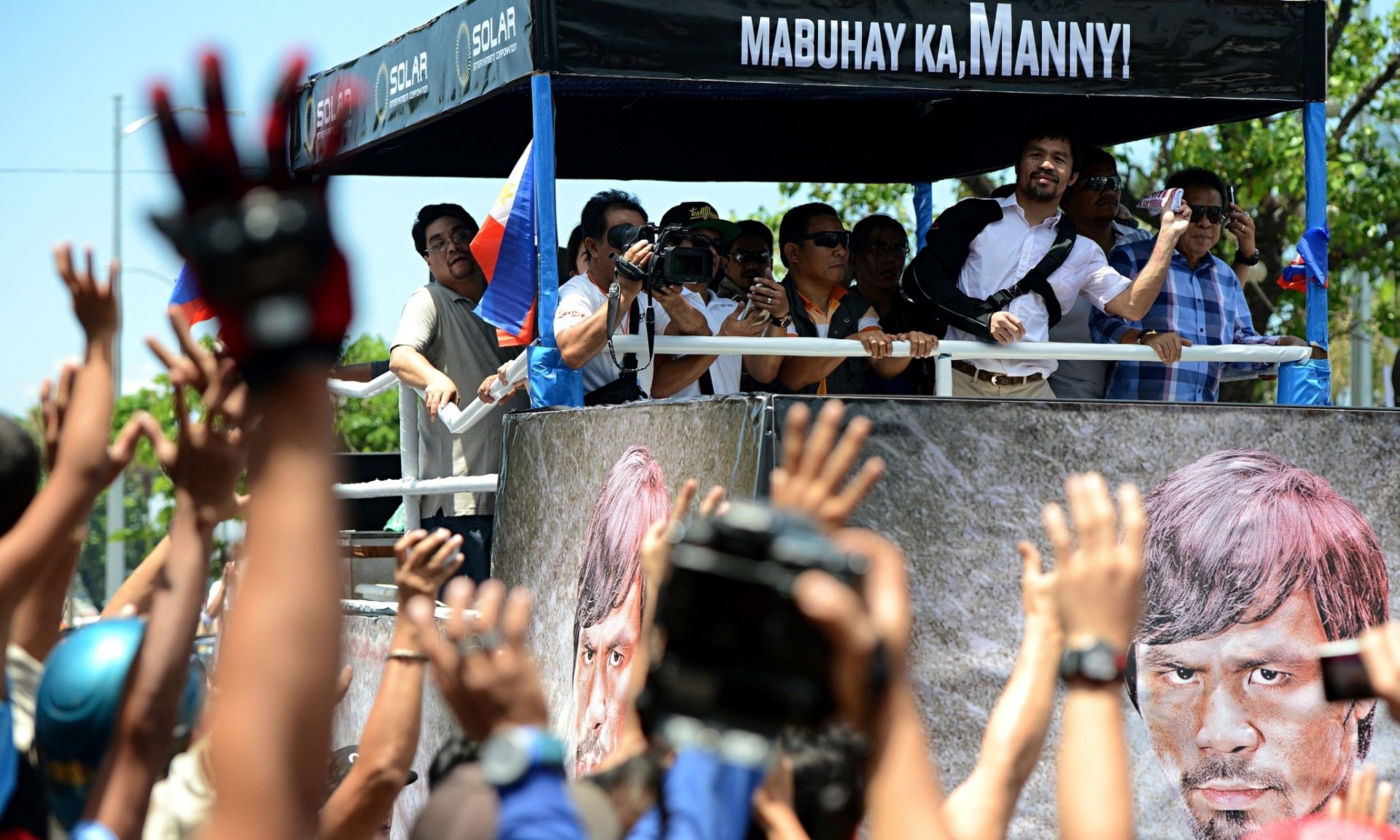 Crowds welcome defiant Manny Pacquiao on return to Philippines
Posted on - May 13 Wednesday, 2015
An injured Manny Pacquiao arrived back in the Philippines to a hero's welcome on Wednesday, still adamant that he did enough to win his fight against Floyd Mayweather at the start of the month.

The 36-year-old was wearing a sling on his right arm following shoulder surgery on a torn rotator cuff suffered before his unanimous points decision loss in the heavily hyped fight in Las Vegas on 2 May.

Pacquiao, a world champion in eight different weight classes and regarded as one of the sport's great entertainers, was sued in a US court last week by two people who felt defrauded by his failure to disclose the pre-bout injury. The Filipino, smiling for photographers, told reporters at Manila Airport that his focus was not on boxing for now.

"I haven't discussed with anyone about my next fight. My focus right now is my shoulder recovery and to make it 100 percent okay, and my focus is on my congress work and family," he said.

The Sarangani congressman was evasive when asked if he would seek a higher position in the government.

"I haven't thought about it, but you know, God's plan is higher than our plan," he said. "His thought is higher than our thought, so who can say?"

Pacquiao, whose record slipped to 57-6-2 following the Mayweather defeat, was then taken on a motorcade through Manila, where thousands of fans lined the streets to greet their favourite sporting son.

His fans had taken the defeat against the defensively astute and unbeaten Mayweather hard, demanding a rematch and alleging foul play in the scoring.

For his part, the boxer remained steadfast in his opinion that he deserved the decision following 12 rounds of fairly insipid action.

"Even if I do not feel well after the third round, fourth round, if we look at it round by round, you'll see that we didn't lose," he said. "But like I said, we respect the decision of the judges."

Mayweather initially appeared keen on the possibility of a rematch for a bout that networks HBO and Showtime said generated record pay-per-view revenues of $400m in the US.

But the American has since changed tack, accusing Pacquiao of being a sore loser and insisting there would be no second bout. Pacquiao opted against getting into a verbal sparring match over Mayweather's criticism.